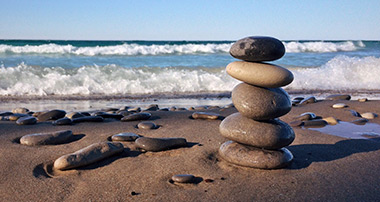 Keeping up with life is no easy task. 
Juggling work, life and family is a delicate balancing act that can sometimes get out of hand. Your work is important, but it's unhealthy for you mentally, physically and socially to live, breathe and sleep your job. By confronting situations, creating effective routines and knowing that it is okay to ask for help when you need it, you can keep stress in check and cultivate a positive outlook and healthy lifestyle.
Fostering Resilience
Resilience is about more than coping; it's about confronting crises and difficult situations without getting overwhelmed by them. Resilient people are better able to handle life's stressors and adapt to changing situations. Being resilient can help protect you from depression, stress and anxiety, too.
Creating an Effective Daily Routine
Creating and following a daily routine can help you stay focused and organized, and minimize stress. Consider integrating the following into your daily schedule:
Get enough sleep.
Have (a healthy) breakfast. Studies show that eating breakfast can improve concentration and performance.
Prioritize tasks. Determine what is most pressing, what can be taken care of quickly and what is not pressing. Approaching daily tasks this way can lessen stress and help you work more efficiently.
Drink water. Keep a water bottle on hand to stay hydrated throughout the day. For every two cups of black tea or one cup of coffee, you should have a cup of water.
Keep moving. If you find yourself in one place for long intervals throughout the day, set aside a few minutes to get up, stretch out and move. Incorporating minimal exercise into your breaks allows your mind to refresh and regain focus.
Seek Help When You Need It
There is only so much you can control; how you feel about your situation is one of those things. To stay positive, you may need to call on your friends, family, or a professional to see you through. Discount Tire and United Healthcare have options for getting help when you need it, even in the privacy of your home.
Employee Assistance Program (EAP)
The EAP is a confidential, FREE resource to help employees and their families provided through GuidanceResources®. When you contact GuidanceResources, you'll speak with an experienced, caring GuidanceConsultantSM about your personal concerns. Their highly trained clinicians can get you back in the groove or refer you to a counselor or other resources in your community for further help. Up to six face-to-face sessions with a counselor are provided free of charge to each employee or family member per issue. You can register and use the EAP through the free GuidanceResources Now mobile app, their website at guidanceresources.com, or by calling 1-844-285-1067. (See your Benefits Guide or contact the Benefits Team or your manager for the Organization Web ID.)
Telemental Health (TMH)
United Healthcare members can meet with a psychiatrist or therapist online through private and secure video-conferencing. Using TMH, clinicians can evaluate and treat general mental health conditions, such as depression and anxiety. They can also provide therapy, and when appropriate, prescribe medications. These services are part of your UHC Behavioral Health benefits. Log on to myuhc.com to get started; medical plan co-pays apply.
Discount Tire Family Website
Browse this website and check back regularly for even more information on achieving your ideal work/life balance, plus information on employee benefits, financial resources, health and wellness, Discount Tire in the news, and more! For your convenience, this site can be accessed from work or at home to get important information when you need it and share it with your family.