UPDATED 10-3-2017 3:46 p.m. CT:
Your Discount Tire Family is here to support you as we can. Our first priority is the safety of our people and their families.
We make a living by what we get, but we make a life by what we give. 
The rally cry for help has been answered! The Diane and Bruce Halle Foundation has generously donated $100,000 to help our employees affected by Hurricane Harvey. We have also received additional donations through PayPal, so THANK YOU to all who have made donations to help our employees. The Bruce T. Halle Assistance Fund (BTHAF) committee is prepared to provide quick assistance to our employees.
---
Regional Update 10-3-2017: Houston and San Antonio
The great news is, all of our employees and their families are safe.
Our San Antonio and Houston Regional Staff have been very busy taking care of our people and their families.
Richard Wheeless updated us: "Marty Mendoza and his team with the support of a few store employees have done an outstanding job repairing the stores damaged and getting them back up and running! Our people and their families are getting closer to being back to normal with every passing day. The BTHAF has been a great help in that effort; the last few houses should be sheet-rocked this weekend and furniture is being ordered and delivered daily. We are all blessed to have one another and a culture that focuses on PEOPLE and leading from the heart. Thank you ALL."
Bill Wrona shared with us, "We are grateful about how we all came together to help one another and how we are closer as a result of this catastrophe. I am grateful that we all did our best to stay the course and trusted each other. I am grateful no one was hurt and we will be stronger as a result of this experience."
Photos of our People in recovery efforts in Houston:
---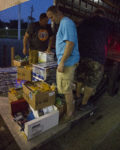 Also, see this article from The Leader's website regarding the reopening of our store at East T.C. Jester and 19th Street in Houston: http://theleadernews.com/discount-tire-re-opens-after-harvey/
---
I WANT TO ASSIST THOSE WITH AN IMMEDIATE NEED DUE TO THE STORM:
I HAVE BEEN IMPACTED BY THE STORM; HOW CAN I GET HELP?
First, if you can, reach out to your AVP or Regional VP to let them know your situation.
FEMA and other government support for temporary housing and other resources:
For emotional support and/or legal help in these trying times, consider using the services offered by our Employee Assistance Program (EAP). The EAP is free to you and your family.

On September 8 at 10 a.m. CT, the EAP will present a webinar titled Emotional Resilience In the Aftermath of Harvey – Register… (A recorded version of this session will be available at a later date; stay tuned.)

United Healthcare is assisting members in impacted areas to ensure they get medications, make alternate arrangements to ensure continuity of care and an additional, free emotional-support line to help people who might be affected. (See details below.)

Effective immediately, Virtual Visit providers Doctor On Demand and AmWell are offering FREE medical services to UHC members affected by Hurricane Harvey in Louisiana and Texas. (See details below.)
In cases where meds are lost/damaged/displaced, Optum Rx is enabling UHC members in affected counties in Texas and Louisiana to refill their medications earlier than normally scheduled.

Superior Vision members in impacted areas can access replacement eyewear if your glasses or contact lenses have been lost or damaged during the hurricane. Call Superior Vision Customer Service at 800-507-3800, Monday through Friday 7 am – 8 pm CT, Saturday 10 am – 3:30 pm CT.
When disasters strike the Lone-Star State, the State Bar of Texas serves as a clearinghouse for disaster response resources and hotlines for the public and attorneys.
Tips and links to resources to help make the recovery task less burdensome: FTC Advice for Helping Hurricane Harvey Victims
If you have any other benefits related questions, contact the Benefits Team at the Corporate Office: 800-347-4348 or benefits@discounttire.com.
Get tips for safely getting through hurricanes and other disasters from Ready.gov.
---
United Healthcare Participants: Actions to Support People Affected by Hurricane Harvey
UnitedHealthcare is taking action to help people in Louisiana, Texas and surrounding areas who may be affected by Hurricane Harvey. Our covered members continue to have their ongoing resources available to them for behavioral health. Support also includes assisting health plan participants who may need to make alternate arrangements to ensure continuity of care and access to early prescription refills, as well as a free emotional-support line to help people who might be affected.
Help Finding a Network Care Provider, Early Refills: Plan participants who need help finding a care provider in the UnitedHealthcare network or obtaining early prescription refills can call customer care at the number located on the back of their medical ID cards.
For plan participants who may have misplaced their medical ID cards, call 866-633-2446, 8 a.m.–8 p.m. (in the local time zone), Monday through Friday. People enrolled in employer-sponsored and individual health plans who have a smartphone can download the free Health4Me app, which provides instant access to their ID card, network care providers, their personal health benefits and more. The Health4Me app is available as a free download at the Apple iTunes App Store and the Android Market on Google Play.
Free Help Line: Optum is offering a free emotional-support help line for affected individuals. The toll-free number, 866-342-6892, will be open 24 hours a day, seven days a week, for as long as necessary. The service is free of charge and open to anyone. Specially trained Optum mental health specialists help people manage their stress and anxiety so they can continue to address their everyday needs. Callers may also receive referrals to community resources to help them with specific concerns, including financial and legal matters.
Along with the toll-free help line, emotional-support resources and information are available online at www.liveandworkwell.com. View the Important Communications Alert on www.liveandworkwell.com or select the Crisis Support drop down tab and select Disaster Planning & Recovery. For coping and resiliency resources, select the Life & Work tab > Well-Being > Coping.
Additional reading: UHC – Hurricanes and Tropical Storms (PDF)
---
Doctor On Demand and AmWell Offer Free Medical Services to Those Affected by Hurricane Harvey in LA and TX Effective Immediately
UnitedHealthcare Virtual Visits providers Doctor on Demand and AmWell are offering free medical services to support all those affected by Hurricane Harvey in Texas and Louisiana. During significant weather events, patients are often unable to access healthcare due to road closures, flooding, or office closures. The services from AmWell and Doctor On Demand will allow patients to access medical care without traveling into severe weather situations.
Virtual Visits will treat infections, skin and eye issues, sprains and bruises, back pain, vomiting and diarrhea, colds, coughs, and congestion, and 90% of the most common medical issues seen in the ER and urgent care. Physicians are trained to treat stress, anxiety, grief, and depression.
In order to receive these services members will need to do the following:
Doctor on Demand:
Free services will be for anyone affected by Hurricane Harvey including those that have evacuated outside of the area.
To receive the visit at no cost, patients will need to apply promotion code HARVEY2017 to their account. Valid through September 8, 2017.
Doctor On Demand is covering the cost of the visit, so insurance will not be billed. This is a temporary change in allowing promotion codes to be used by patients with insurance.
UHC Members can download the Doctor On Demand app, here. Members can contact Doctor On Demand's member support team at 1 (800) 997-6196.
AmWell:
Free services will be for anyone affected by Hurricane Harvey including those that have evacuated outside of the area.
To receive a visit at no cost, patients will need to apply coupon code HARVEY. Valid through September 15, 2017.
UHC members can download the AmWell app by texting AW to (617) 249-7410.
Members can contact AmWell member support team at 1-855-818-DOCS (3627).