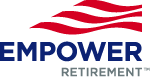 Have you registered your 401(k) account online? Empower Retirement, the record keeper for the Company's 401(k) accounts, recently launched a new, enhanced website with more tools to help you make the most of your retirement contributions.
How to register:
Click on the green button labeled "Register."
Enter the information under the tab labeled "I do not have a PIN" and click "Continue."
You will be prompted to create a username and password for future logins.
If you are experiencing difficulties registering or logging in, use the "login help?" link on the site. If you have other questions regarding your 401(k) account, call Empower Retirement toll-free at 844-372-8473. As a plan participant, you need to register on the new website, whether you are currently participating or are enrolling for the first time. Even if you had registered on the previous website, your existing user name and password do not work on the new site and you will need to register again.
For more details on the plan and what you can do in the new website, see the updated Empower Retirement Welcome Guide (PDF).