Eating what is in season helps you get the most nutrition from your foods and summer offers a large variety of fresh, seasonal fruits and vegetables. Whether you grow your own, visit local farmer's markets, or shop at your local grocery store, incorporating more fruits and vegetables into your diet can help you stay on track with with healthy eating goals. 
If you are looking for new, healthy summer recipes, check out the Food Network's collection of 100 Fresh and Healthy Summer Recipes to Add to Your Rotation. 
This collection offers an abundance of healthy recipes, including main dishes, sides, appetizers, low-carb, and plant-based options. Scroll through for ideas to help you create a new summer meal plan, or add a few new recipes to your existing rotation.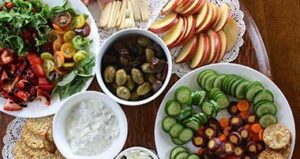 Weigh-ins and Support Resources
Remember, the Spare Tire Contest is a journey; stay positive and stay on track by submitting your weight online each week through the links in the weekly email sent to all participants. Weigh-in links, support resources, and inspiration are also available from your Discount Tire work location, on the Knowledge Center HR > Spare Tire page. 
Be sure to check in with your doctor before making changes to your current diet or starting a new exercise routine. For more details on the contest, visit the Spare Tire page.