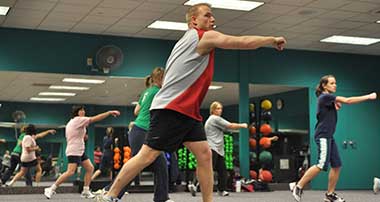 Your short term health goals may be to lose weight, but long term you need to work on a strategy to keep it off. Reverting back to old eating habits may cause you to gain the weight back. Follow these tips to help you lose weight and keep it off:
Eat mindfully – Don't let bad eating habits work their way back into your diet. Continue your healthy diet and try to avoid situations where you may overeat. If there will be changes to your routine, plan ahead to be sure you can continue your healthy eating habits.
Be Active – Along with eating healthy, being physically active can help you keep the weight off. Exercising 60-90 minutes a day, most days of the week, is a great goal to strive for. Start slow if you are not used to this amount of activity and consult with your doctor before starting a new exercise routine.
Monitor your health – Keep a close eye on your diet, activity level, and weight. This will help you notice patterns that may be affecting your health goals.
For more information on maintaining your weight loss, visit the CDC's Keeping It Off article. Browse the site for additional tips on improving your eating habits, physical activity for weight loss, preventing weight gain, and for more information about the health effects of being overweight or obese.
Weigh-ins and Support Resources
Remember, the Spare Tire Contest is a journey; stay positive and stay on track by submitting your weight online each week through the links in the weekly email sent to all participants. Weigh-in links and additional support resources are also available from your work location, on the Knowledge Center HR > Spare Tire page.
Be sure to check in with your doctor before making changes to your current diet or starting a new exercise routine. For more details on the contest, visit the Spare Tire page.