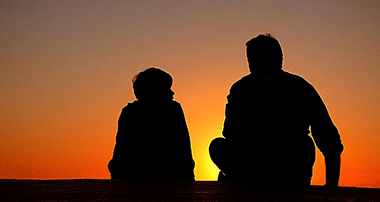 Many tragic events have been in the news recently and you likely have read or seen things that may be disturbing to you. These events sometimes cause strong emotions which may affect your relationships at home or in the workplace. Discussions on these topics may turn sour, even with those closest to you.
Avoiding difficult or polarized topics may not be the best solution, so it is important to focus on productive conversations. Be sure to pay attention to how you respond to others in these situations so you can have healthy discussions without damaging your relationships.
Follow the link below to watch the prerecorded Difficult Conversations webinar. This webinar will go over information and examples for handling these difficult conversations with other adults and your children.
Watch the recorded webinar at your convenience: https://attendee.gotowebinar.com/register/7008468942258278155
Coping With Traumatic Events
Traumatic events impact those directly involved, but may also have a strong impact on those who witness the event or even see it on television. These events may cause strong emotional responses with long lasting physical or behavioral effects, such as nausea, dizziness, changes in appetite or sleep patterns, and withdrawal from normal activities.
If you experience these symptoms for longer than one month, it may be a sign you are suffering from Post Traumatic Stress Disorder (PTSD). It is important for you to recognize the symptoms and contact a doctor if you may be suffering from PTSD. To learn more about emotional responses to traumatic events, PTSD, and ways to cope with tragedy, read Coping With a Traumatic Event.
Helping Children Cope
Children may have a hard time understanding changes going on in the world around them. It is important for parents to talk to their children, understand the emotions children are dealing with, and help children work through their uncertainty. Talking to a Child During Uncertain Times offers tips on talking with your child, understanding their emotions, coping tips and warning signs your child may need professional help.
Do you have questions about how to respond to your child, deal with their emotions, or how to comfort them? Answering Questions Children Have About Tragedy may offer some guidance. Don't be afraid to reach out for professional help if needed.
Children can be very sensitive to traumatic events and may have a difficult time recovering. It is important for parents and family members to recognize the signs that a child has been affected by trauma and to help the child work through their emotions and fears. For prolonged problems, a mental health professional may need to be contacted. To learn more about the signs and helping a child affected by a traumatic event, read Helping Children Cope With Violence and Disasters.
Additional Resources:
Our Support Programs and Services page offers a variety of emotional support and mental health resources to help you manage your well-being during this time.
Your health is very important, especially during stressful events. Visit our Maintaining Your Health page for tips on self-care, dealing with stress, managing anxiety and more.
Our Coping Tools for Families page may offer additional resources for helping you and your family cope with emergencies, behavioral issues in children, and social disruptions.