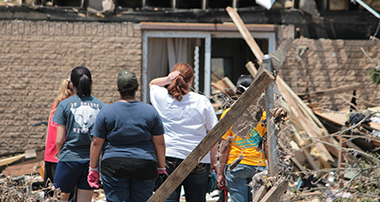 Severe weather swept through Texas and southern Oklahoma causing significant damage in both states. Many residents are without power and/or have been displaced.
For those affected, Optum is offering a free emotional support help line. This help line will provide those affected access to specially trained mental health specialists. The company's public toll-free help line number, 866-342-6892, will be open 24 hours a day, seven days a week for as long as necessary. This service is free of charge and open to anyone. Specially trained Optum mental health specialists help people manage their stress and anxiety so they can continue to address their everyday needs. Callers may also receive referrals to community resources to help them with specific concerns, including financial and legal matters.
Along with the toll-free help line, emotional-support resources and information are available online at www.liveandworkwell.com. View the Important Communications alert on liveandworkwell.com near the bottom of the member home page for local resources.
You can find the following resource centers by using a keyword search on liveandworkwell.com:
Coping Center: Type the keyword "coping" into the search bar, select Coping. Here you'll find articles, guides, self-help tools and videos on coping with stress.
Disaster Planning & Recovery Center: Type the keyword "disaster" into the search bar, select the Disaster Planning & Recovery Center. Here you'll find information on preparing for and recovering from natural disasters and links to national organizations too.
Additional National Resources: