Get your score, see how you compare and view next steps.
Visit the Company's 401(k) plan website at empowermyretirement.com to quickly and easily see how much you've saved and more. Simply log in to your account to:
View your estimated monthly retirement income and see if your future savings are on track
Model different savings scenarios and view the possible outcomes
Make changes to your account with just one click
Log in to your account to see what your future paycheck may look like!
First time logging in?
Visit empowermyretirement.com and select the REGISTER button.
Select the I do not have a PIN tab and follow the prompts. The website will guide you through the account registration process.
The next time you access your account, choose Login.
If you need assistance accessing your account, call an Empower Retirement Client Service Representative at 844-372-8473(DSC-TIRE) between 7:00 a.m. and 6:00 p.m. Mountain time, any business day. Once you've logged in to your account, get started with the website functionality explained below …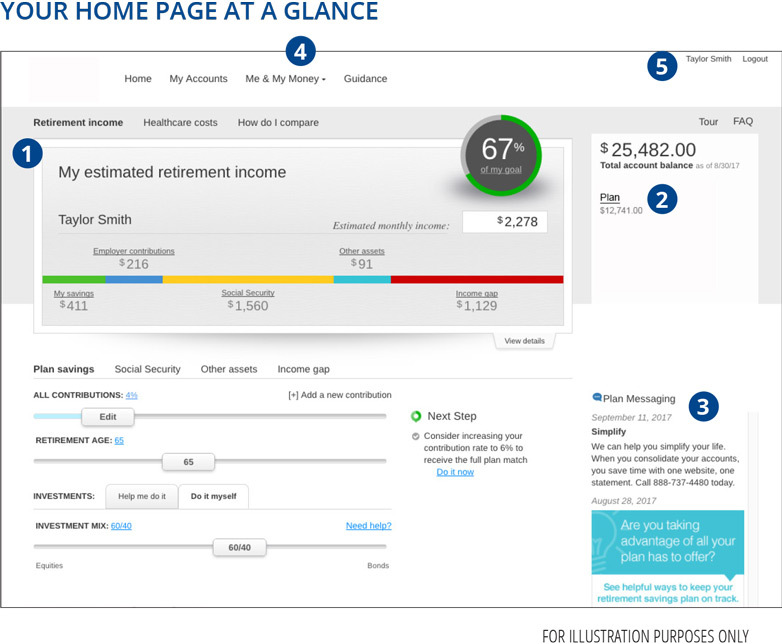 1. Know your estimated monthly income in retirement
Your retirement plan can help you work toward an estimated monthly income in retirement to:
Find out how much income you may have in retirement
Your plan account's home page will show your estimated monthly retirement income and compare it with your goal.
See the effects of any changes you make in real time if you were to adjust your:
Retirement date
Investment mix
Contribution rate
Put your savings in context
Compare your retirement savings strategy with that of other Empower participants in your age and salary range, and get a projection of what your healthcare costs may be in retirement.
Request changes immediately
If you need to make changes to your savings strategy in order to reach your retirement goals, you can make those changes online within seconds.
2. Get your account details
Click on your plan name to:
See your balance
Get fund information
View your statements
Find plan-specific documents
3. Receive plan messaging
Bulletins posted to your home page help you stay up to date on plan events and changes.
4. Quickly link to Me & My Money
Here you will find the Empower Wellness and Financial Center with information, videos and calculators to help you address important financial needs. Me & My Money is organized into four key areas — Spending, Saving, Investing and Protecting — and suggests next steps.
5. Access your personal profile
Click your name to:
Choose electronic communications
Make or update a beneficiary designation
Update your contact information
Make sure your communication preferences and email are up to date
The account owner is responsible for keeping their PIN/passcode confidential. Please contact Empower Retirement's Client Services immediately if you suspect any unauthorized use.
Securities offered or distributed through GWFS Equities, Inc., Member FINRA/SIPC and a subsidiary of Great-West Life & Annuity Insurance Company.
GWFS Equities, Inc. registered representatives may also be investment adviser representatives of GWFS affiliate, Advised Assets Group, LLC. Representatives do not offer or provide investment, fiduciary, financial, legal or tax advice or act in a fiduciary capacity for any client unless explicitly described in writing.
Great-West Financial®, Empower Retirement and Great-West InvestmentsTM are the marketing names of Great-West Life & Annuity Insurance Company, Corporate Headquarters: Greenwood Village, CO; Great-West Life & Annuity Insurance Company of New York, Home Office: New York, NY, and their subsidiaries and affiliates, including registered investment advisers Advised Assets Group, LLC and Great-West Capital Management, LLC. AM#430089-0218
Unless otherwise noted: Not a Deposit | Not FDIC Insured | Not Bank Guaranteed | Funds May Lose Value |
Not Insured by Any Federal Government Agency