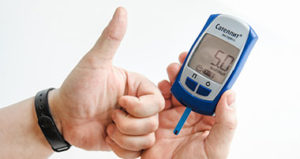 The Centers for Disease Control and Prevention (CDC) estimates that more than 34 million Americans are living with diabetes, most of which have Type 2. There are many things that can raise your risk of type 2 diabetes. Although you cannot control some risks such as your age, race or family history; other risks such as weight and your level of exercise can be changed.
Take this quiz from the American Diabetes Association to see if you are at-risk for type 2 diabetes and to learn more about preventing and/or managing diabetes. Then, have your doctor check your blood glucose levels to ensure they are where they should be. Let your doctor know of any increased risk factors you are aware of such as a family history of diabetes.
Employees who are enrolled in a United Healthcare medical plan may sign up for Real Appeal®. This program is available at no additional cost as part of the employee health benefit plan for UHC members and their covered spouses and dependents (18 and over) who have a BMI of 23 or higher. UHC members may sign up for Real Appeal for free at http://discounttire.realappeal.com.
Real Appeal offers:
A Transformation Coach who leads weekly online group sessions.
Online tools to help track your food, activity and weight loss progress.
A Success Kit with food and weight scales, recipes, workout DVDs and more – shipped to your door.
Losing weight can have a significant impact on your risk for developing diabetes. Losing even 10 – 15 pounds makes a big difference in your overall health. Losing weight can be a hard, but if you stick with it, you can lose the weight and keep it off.
Always be sure to discuss your plans to prevent and/or manage diabetes with you doctor.