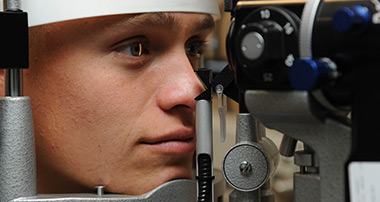 Take advantage of routine vision and dental exams. If you are currently enrolled in Vision and/or Dental benefits, your yearly exams are covered at 100%. Schedule your appointments today!
More Than Meets the Eye …
Many simple vision problems go undiagnosed, and are problems that could be detected by an eye exam and easily corrected. Early detection can help lessen some of the long-term effects and help preserve vision. Some systemic diseases and health conditions can also be diagnosed through a comprehensive eye exam, such as:
Cataracts
Glaucoma
Retinal detachment
Eye cancer
Diabetes
High blood pressure
High cholesterol
Superior Vision Members
The Company offers vision insurance through Superior Vision, which gives you easy online access to your vision benefits information. If you are a member and have not yet created an online account at superiorvision.com, log in to create yours today! Then access the secure member area to:
Print your ID card
Locate a provider
View your benefits and eligibility
You can also contact Superior Vision's customer service at contactus@superiorvision.com or call 800-507-3800. For more information, visit Vision Benefits.
The Mouth and Body Connection
Early detection of serious medical conditions can also occur in the dental office. More than 120 diseases can cause signs and symptoms in and around the mouth and jaw. Health problems with oral indicators that can potentially be identified through a dental exam include:
Anemia
Kidney Failure
Diabetes
Heart Disease
Delta Dental Members
The Company offers dental benefits through Delta Dental of Illinois. Through the Member Connection at deltadentalil.com or the automated phone system at 800-323-1743, you can find everything you need to know about you and your covered dependents' benefits, including:
Request a new ID card
Maximum and deductibles used to date
Claim status
Preventive history
For more information, visit Dental Benefits.
Annual Dental Maximum Carryover Feature
Also, take advantage of Delta Dental's ToGo Annual Maximum Carryover Feature, which allows you to carryover any qualified unused portion of your annual maximum to the next plan year. Get complete details at the Member Connection or from this site.
Predetermination for Your Dental Care
When a proposed treatment plan is estimated to cost more than $200, ask your dentist to submit the plan to Delta Dental for predetermination. Delta Dental will review the proposed treatment and determine what portion of the treatment will be covered under your dental plan and what portion will be your financial responsibility (out-of-pocket costs). A predetermination notice will be sent to you and your dentist. We encourage you to review this notice together and discuss options before deciding on a final treatment.