United Healthcare members: get great health recommendations, personalized just for you.
What is Rally?
The starting line for improving your health through a fun, user-friendly digital experience from myuhc.com®
No additional cost to you as part of your UnitedHealthcare medical plan benefits
Discover Your Rally Health Age
Your Rally Health Age is a measure of how your body feels, in contrast with your real age. Once you know your Rally Health Age, you can start choosing simple activities—called Missions—that you can fit into your life and daily schedule right away.
Pick and Track Your Missions
Choose easier Missions to start with – like getting enough sleep or cooking at home – then push yourself further when you're ready. You can easily track your progress by self-reporting or integrating wearable fitness devices from FitBit®, Jawbone UP®, or Body Media®.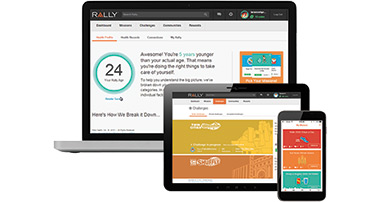 Earn Your Rewards
As you track your progress, you'll earn coins that you can use to enter sweepstakes for great prizes. Best of all, the more you take part in Rally, the more chances you have to win!
Get Started with Rally Today
Join today and take the first small step to big results. Register now at myuhc.com, then download the free app from the App Store or Google Play.
Rally Health provides health and well-being information and support as part of your health plan. It does not provide medical advice or other health services, and is not a substitute for your doctor's care. If you have specific health care needs, consult an appropriate health care professional. Participation in the health survey is voluntary. Your responses will be kept confidential in accordance with the law and will only be used to provide health and wellness recommendations or conduct other plan activities. Your Health Age is based on self-disclosed information, including any applicable biometric screening data.

All trademarks are the property of their respective owners. Insurance coverage provided by or through UnitedHealthcare Insurance Company or its affiliates. Administrative services provided by United HealthCare Services, Inc. or their affiliates.