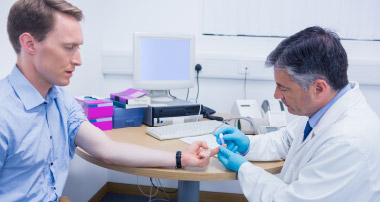 Managing diabetes can be a challenge, but you don't have to go it alone. From choosing the best glucose meter to planning meals, a diabetes educator can help you maintain many aspects of your diabetes. Also, below are facts about insulin, and tips for using the Mail Service Pharmacy and other online resources to help with diabetes.
What is a diabetes educator?
Diabetes educators are health professionals who help you with day-to-day methods for managing your diabetes. They give you the skills you need to live a healthy lifestyle and keep blood sugar under control, and help with other aspects of your diabetes care.
If you are newly diagnosed or have trouble controlling your blood sugar, a diabetes educator can help you take charge of your disease. For United Healthcare members, your in-network, doctor referred diabetes educator is covered under Discount Tire's UHC health plans.
What does insulin have to do with diabetes?
In most people, the pancreas releases the correct amount of insulin to move glucose from the blood into the cells. But people with diabetes have a problem:
People with type 1 diabetes don't make insulin.
People with type 2 diabetes either don't make enough insulin or their bodies don't use it properly, which is called insulin resistance.
Without enough insulin, glucose builds up in the blood and exits the body in the urine. The body then loses its main source of energy. High blood sugar also damages the blood vessels and nerves, which can lead to serious problems. Taking insulin shots helps correct the balance between blood sugar and insulin in the body.
Diabetes Help from UHC
United Healthcare offers free online resources to explain and help manage diabetes at www.uhc.com.
OptumRx Mail Service Pharmacy
UHC members can save money and time by filling prescriptions for your diabetes medications through the Mail Service Pharmacy. To get started, request a three-month supply of your medication with refills for up to one year (if appropriate) from your doctor. Then call 1-855-837-1612 or log on to www.myuhc.com to place your order. You'll get three months' supply for the copay price of two months and free standard shipping to your home. More info on OptumRx services …