It is important to include fiber in your diet. Fiber benefits many of your body's functions, including improving digestion, helping maintain blood sugar and weight, and lowering your risks of some diseases. 
Incorporating more fiber into your diet can be as simple as having a bowl of cereal or yogurt for breakfast. You can also consider switching to whole grains and increasing your intake of fruits and vegetables, which are packed with minerals, vitamins, and fiber.
For more information on the benefits of fiber, how much fiber you should have in your diet, and tips for getting more fiber, refer to Mayo Clinic's Nutrition and Healthy Eating article.
Check out these High-Fiber Recipes from Mayo Clinic if you need help with more ideas for adding more fiber to your diet.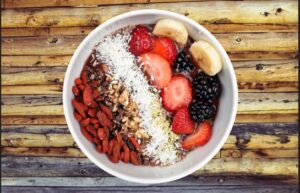 Weigh-ins and Support Resources
Remember, the Spare Tire Contest is a journey; stay positive and stay on track by submitting your weight online each week through the links in the weekly email sent to all participants. For additional contest information, visit the Spare Tire page or:
Discount Tire employees should visit the Knowledge Center from their work location.
Tire Rack employees should visit the Wellness Works site.
Be sure to check in with your doctor before making changes to your current diet or starting a new exercise routine.