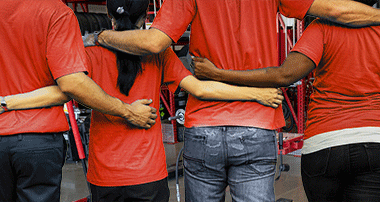 Are you feeling stressed, depressed or overwhelmed? Don't be afraid to ask for help. There are resources available to help you through hard times.
Depression and stress can negatively effect your health and quality of life. Watch for these symptoms and seek help if you feel you may be suffering from depression.
Depression Symptoms
Persistent sad, anxious, or empty mood
Loss of interest in hobbies and activities you once enjoyed
Feelings of guilt, worthlessness or self-loathing
Significant change in appetite and/or body weight
Anger or irritability
Concentration or memory problems
Suicide is a risk for everyone, but especially working age adults age 24 – 64. Depression can increase this risk and should be evaluated and treated by a professional. Know the risks and seek help immediately if you or someone you know is having suicidal thoughts.
Suicide Risks
Exposure to suicide, local or via the media/internet
Alcohol/substance abuse
Pressure in your personal or work life
History of trauma or abuse
Relationship, job or financial loss
Major/chronic illness
Mental disorders, including: mood disorders, schizophrenia, anxiety disorders and personality disorders
How to Get Help
Contact your healthcare provider if you feel you may be suffering from depression or are having suicidal thoughts.
Contact the National Suicide Prevention Lifeline at 1-800-273-8255 for free confidential support if you are in distress, or for prevention and crisis resources.
Visit the National Suicide Prevention Lifeline website suicidepreventionlifeline.org for resources on helping yourself, helping someone else, or for general information on suicide prevention.
For more information on suicide awareness and prevention visit the Suicide Prevention Resource Center at sprc.org or the American Foundation for Suicide Prevention at afsp.org.
Additional Resources:
Are you or someone you know looking for substance abuse help? Visit our Substance Abuse Help page to find information about resources that can help put you on the path to recovery.
Visit our Support Programs and Services page for a list of resources to help you manage your feelings of stress and anxiety.
Our Maintaining Your Health page offers tips on maintaining a healthy body and mind. Eating right, staying active, getting enough sleep and practicing self-care all contribute to your overall mental, emotional and physical well-being.