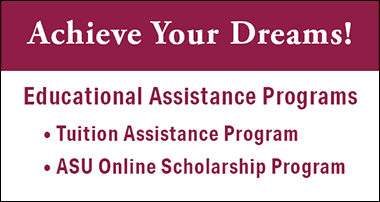 Take advantage of our Educational Assistance Programs to help you achieve your educational dreams.
Tuition Assistance Program
Provided you pass with a "C" or better, you may be reimbursed for eligible education expenses
Up to $5,250 per year for full-time
Up to $1,000 per year for part-time
The Tuition Assistance Program requires manager approval. Employees must complete one year of continuous employment to be eligible. Other restrictions may apply. Visit the Knowledge Center for complete program rules and to access the required approval and reimbursement request forms.
More about the Tuition Assistance Program …
ASU Online Scholarship Program
All employees and their dependents are eligible to receive a 20% scholarship towards undergraduate and graduate programs through ASU Online.
100% online
20% scholarship available to all employees and their dependents (spouse and children under 24)
Choose from 200+ ASU degree programs
May be used in combination with Tuition Assistance