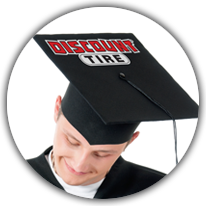 Part-time and full-time employees: realize your higher education dreams through tuition reimbursement! We recognize that your skills and knowledge are critical to the success of Discount Tire / America's Tire / Discount Tire Direct / Tire Rack. The Tuition Assistance Program encourages employees' personal development through limited reimbursement of eligible education expenses.
Tuition and books are expenses eligible for reimbursement, up to designated limits
Choose from individual courses or courses that are part of a degree program
Classes must be offered from nationally recognized accredited colleges
Must have been employed continuously with the Company for at least one year
Must pass with a "C" or better to be eligible for reimbursement
"With more choices for what can be reimbursed, I'm very excited to participate in this program and take advantage of this benefit."
—Nicole, Scottsdale, AZ

"The Company inspires us to further our education inside and outside the store. On the road to success, we put our people first!"
—Anthony, Corrales, NM
For complete program rules and application forms:
Discount Tire employees should visit the Knowledge Center under Human Resources >Tuition Assistance.
Tire Rack employees should contact HumanResources@TireRack.com.
NOTE: Yearly reimbursement limits are different depending on whether you are full-time or part-time status. Part-time employees must average at least 12 work hours per week to be eligible. Other restrictions may apply.