NEW Online Portal
Through a partnership between ASU and Instride, a new online portal has been created to help employees find information about learning options, confirm eligibility, and start the enrollment process for ASU Online. Please read below for detail on using the portal to start your enrollment at ASU Online and/or gift the scholarship to an eligible dependent. 
Starting Fall 2022, employees MUST use the new portal discounttire.instride.com to receive the ASU Online Scholarship.
An inviting, easy way to achieve your DREAMS …
Discount Tire and Arizona State University are joining together to help you achieve your educational DREAMS. ALL Discount Tire and America's Tire employees and their dependents are eligible to receive a 20% scholarship towards undergraduate and graduate programs through ASU Online.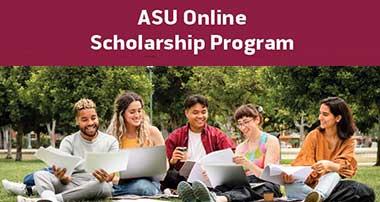 As a Discount Tire employee, you and your spouse and children will have access to:
200+ ASU degree programs, 100% online
Flexibility of online courses with multiple start dates
Personalized support from your ASU success coach
20% scholarship amount is in addition to Discount Tire's existing Tuition Assistance Program
You can be confident that ASU will help meet you and your family's personal and professional DREAMS. Invest in yourself. Invest in your future. Dream big.
Claiming your Scholarship
Visit discounttire.instride.com to get started.
Confirm your eligibility.

All Discount Tire employees and a family member (a spouse, partner, child, step-child or adopted child who is between 16 and 24 years of age) are eligible as of the employee's hire date.

Choose a learning option and request information for one that interests you.

An ASU enrollment coach will contact you and help you through the process.

Apply to your program of choice.
Congratulations! The tuition scholarship will automatically be applied to your tuition bill. All you need to do is check the Finances section of My ASU to confirm the tuition scholarship has been applied.
NOTE: Please reach out to Support@InStride.com if you don't see your tuition scholarship reflected by the first date of the session.
Gifting the scholarship to an eligible dependent
Gift the scholarship
Visit discounttire.instride.com to get started.
Log in to your account. 
Click "Gift My Education Coverage".
Enter the family member's information.
Click "Add to My Coverage".
Click "Complete Addition".

Only one family member may be added at a time. 
The family member will remain eligible as long as the employee is employed at Discount Tire.

The family member dependent will receive an email stating "Congratulations! [employee name] gave you education coverage!"
Claiming a gifted scholarship
In the congratulations email, click "Redeem My Gift".
Click, "Start My Journey".
Complete the profile questionnaire.
Congratulations! The tuition scholarship will automatically be applied to the family member's tuition bill. All they need to do is check the Finances section of My ASU to confirm the tuition scholarship has been applied.
NOTE: Employees will no longer be required to submit a separate dependent declaration form as required prior to the new portal. Please reach out to Support@InStride.com if your dependent does not see the tuition scholarship reflected by the first date of the session.
Frequently Asked Questions
What is the Discount Tire & ASU Scholarship?
20% scholarship, covering ASU base tuition and mandatory fees, distributed by semester.
Active Discount Tire employees become eligible on the first day of employment.
Spouse and immediate dependents* are also eligible.
Scholarship may be applied towards undergraduate, graduate and certificate programs offered through ASU Online. Note: The scholarship does not apply to the Online Master of Computer Science (MCS) program.
* A dependent is defined as a your son, daughter, step child or adopted child. The dependent must be under 24 years of age during the academic year for which they are receiving the scholarship.
Whether you're looking for a jump start, or a fresh start, Earned Admission can help you get there.
Earned Admission provides a clear track into college, no matter your background or previous academic performance. Whether you are not yet admissible into ASU or are unsure college is right for you, Earned Admission gives you an opportunity to test the waters without committing financially or risking your GPA.
Complete your Track with the necessary GPA to earn your admission into ASU.
Begin Today: No transcript or minimum GPA required.
Pay After You Pass: Pay for a course only after you earn the grade you need. Try college without risking your GPA.
Earn University Credit: Same courses, same faculty, same credit. If you pass a course, you make direct progress toward graduation. Once completed, a student can pay $400 per course to receive credit on their ASU transcript.
How does it work?
Request an invitation to participate by visiting: goto.asuonline.asu.edu/dtea and an ASU Earned Admission Coach will connect with you soon to determine if EA is right for you!
Here are some commonly asked questions about learning online. Don't see an answer you're looking for? An ASU Enrollment Coach is ready to help!
Will my diploma and transcript say 'Arizona State University' or 'Arizona State University Online'? Your diploma and transcripts will say Arizona State University — just like students studying on campus. ASU's online students are an important part of ASU's student body. Every year, hundreds of ASU Online students travel from across the nation to participate in graduation ceremonies. We hope to see you there!
Are online programs comparable in quality to on-campus programs? Yes. The same faculty and instructors that teach on campus also teach ASU Online courses. This means that the rigor, quality of the content and course load is the same as on-campus classes.
Can you tell me about the "classroom" experience? ASU Online is designed with you in mind. ASU instructors and faculty use a variety of methods to share materials, create opportunities for student interaction and monitor their progress throughout the course. One of the benefits of completing your degree online is flexibility. A few courses may require specific log-on times for certain activities or assignments, but most courses have assignments and due dates so students can look ahead and complete them at a comfortable pace.
How often can I start classes? How much should I plan to study? ASU Online offers six starts dates per year. The majority of the courses are 7.5 weeks in length and most students take 1–2 classes at a time. While every student studies differently, you should plan to spend 15-18 hours a week on coursework for one class.
Does Discount Tire offer additional education assistance to help pay for tuition at ASU? Yes! The Discount Tire & ASU Scholarship is just one way to fund your education. Check with your Discount Tire Human Resources Team to see if you're eligible for tuition reimbursement as well as additional scholarships that may exist within Discount Tire.
Log into the portal to start your education journey: discounttire.instride.com.
Mark Your Calendar
Ready to begin? Pay attention to the following start dates. It's best to allow 6-8 weeks to complete the enrollment process and sign-up for classes. Review the Starting a Degree Program Timeline for more information on the steps you will need to take to begin your education journey.
2022-2023 Academic Calendar:
Fall 2022
Session A:
Thursday, 8/18/2022 – Friday, 10/7/2022
Session B:
Wednesday, 10/12/2022 – Friday, 12/2/2022
Spring 2023
Session A:
Monday, 1/9/2023 – Tuesday, 2/28/2023
Session B:
Monday, 3/13/2023 – Friday, 4/28/2023 (online classes may end on Tuesday, 5/2/2023)
Summer 2023
Session A:
Tuesday, 5/16/2023 – Monday, 6/26/2023
Session B:
Thursday, 6/29/2023 – Wednesday, 8/9/2023
ASU Online: Excellence in Education
ASU is #1 in the U.S. for innovation
ASU is #2 in U.S. online undergraduate programs