The Bruce T. Halle Assistance Fund provides basic assistance to DT/AT/DTD employees who incur extraordinary expenses as a result of disasters or other emergency hardships.
The Fund honors Mr. Halle for his life-long compassion and sense of commitment toward his people, which is the foundation of our company's culture.
Support for the Fund comes from various sources, including employees and members of the communities in which the Company does business. Assistance may be granted for:
Basic necessities such as shelter, food, clothing while in transition from a disaster, fire, storm or injury
Medical bills for life-threatening illness or emergency treatment above what insurance covers
Airfare related to death or serious illness of a family member
Other similar circumstances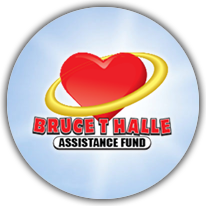 Go to bthaf.org to learn more about how to apply, how to donate, and more.
The Bruce T. Halle Assistance Fund is a tax exempt organization and cannot make employee assistance grants based on hardship related to poor financial planning, unsuccessful personal investments, or financial issues related to fluctuations in the economy, etc.