The Company's insurance carrier for life and disability insurance (including travel and financial wellness benefits) is New York Life Group Benefit Solutions. You can add or change your life and disability elections at any time in Workday; see our Workday Enrolling In or Changing Your Life and Disability Coverage QRG (PDF) for instructions. Insurance benefits terminate when you leave the Company. Weekly rates for the items below can be found in the benefits enrollment packet mailed to your home.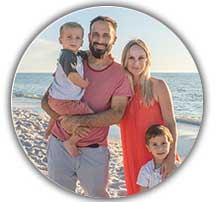 Basic Life Insurance and AD&D
Basic Life Insurance benefits offer you a way to protect your family's financial security in case of injury or death. The weekly cost is very inexpensive and the benefit is 1.5x your annual salary, up to a maximum of $50,000.
Additional and Dependent Life Insurance
Employees may purchase Additional Life Insurance in $10,000 increments up to 7x your base salary, capped at $500,000. Be sure to review your allowed maximum, as you may be eligible to raise your current benefit amount if your salary has increased. An Evidence of Insurability (EOI) form will be required if you choose to raise your current Additional Life amount.
If you elect Additional Life coverage for yourself, then you may purchase Dependent Life Insurance for your spouse and children (up to age 26) who are not already covered by a Discount Tire Life Insurance Policy. No dual coverage is allowed. Dependent Life Insurance (Spouse or Child) cannot be purchased for dependents who are already covered by their own Discount Tire Life Insurance Policy or the policy of another Discount Tire employee.
The Spouse Life benefit may be elected in $5,000 increments up to 50% of the amount you chose for your additional life benefit election, capped at $100,000. The benefit amount for an employee and/or spouse policy reduces to 65% of the policy amount at age 65, 40% at age 70, and 25% at age 75 or above. The Child Life benefit covers all of your children up to age 26 in the amount of $5,000 or $10,000. (See the Insurance Rates in the Benefits Guide mailed to your home or contact the Benefits Team in Human Resources for more information at 1-800-347-4348 or benefits@discounttire.com.)
Note: Any new life and disability elections during Open Enrollment require evidence of insurability (EOI). An EOI form will be sent to you from New York Life Group Benefit Solutions. Complete and return the form to New York Life Group Benefit Solutions for review. Upon approval, benefits will go into effect.
Short Term Disability Insurance
This benefit is designed to replace 60% of your income, up to a maximum of $1,200 per week, if you are unable to work due to a non-work related short term illness or injury. This benefit pays for up to 24 weeks. Short Term maximum earnings are $104,000. The cost for this benefit is based on your annual earnings.
Long Term Disability Insurance
This plan provides 60% of your income, up to a maximum of $6,000 per month, beginning after 180 days of continuous disability. The cost for this benefit is based on your annual earnings and age.
Travel Assistance and My Secure Advantage
These services are available as an additional benefit to those enrolled in any of the New York Life Group Benefit Solutions life and disability benefits above; learn more …
Have questions or need more information about taking a Leave of Absence? Contact HR's Leave of Absence team at LOA@discounttire.com.