The Company cares about the financial well-being of our employees—not only your weekly paycheck but your long-term financial security. Learn more about the financial benefits offered to our full-time and part-time employees, and take advantage of other tools and resources we've gathered here to keep you well-informed to make the BEST decisions for your financial health.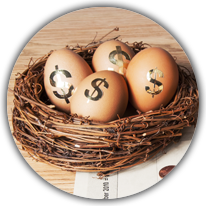 Bank of America at Work
Available to all Discount Tire employees, view interactive articles and videos to take you through common financial situations step-by-step and help you decide the BEST use of your financial resources. See for yourself now—Bank of America at Work.
Insurance Buying Guide
What kinds insurance do you need on your car, home or apartment? How much coverage? Get answers from our Insurance Buying Guide.
Retirement Planning
Considering retirement in the near future? Make sure your ready, and let us connect you with experts. Read more—Retirement Planning.
Creating a Budget:
Budgeting is just another name for creating a spending plan for your money. Sticking to your budget will ensure you have enough money for the things you need and keep you out of debt. And if you are currently in debt, a budget is essential to help you work your way out. Try completing a budget worksheet; use these PDF documents from Dave Ramsey (https://www.daveramsey.com/) to start creating a budget for you and your family:
Verification of Employment (VOE):
Applying for a loan? Buying a home or car? Leasing an apartment? You may require a verification of employment(VOE). All VOEs are handled through the Work Number. You can quickly and easily provide this information when needed; learn how …
Financial Benefits:
Financial Tools, Resources, and Knowledge: