Have you been thinking about furthering your education? ASU Online Spring Session B begins March 14, 2022.
Our employees and their dependents are eligible to receive a 20% scholarship towards undergraduate and graduate programs through ASU Online. This scholarship may be used in addition to the Company's Tuition Assistance Program. ASU Scholarships are limited to the employee and one dependent at any given time.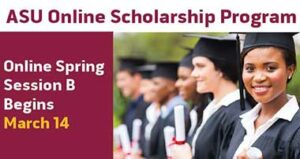 ASU Online currently offers over 200 online degree programs and continues to grow their online offerings, such as the recently launched Nursing, MS; Biochemistry, BS; Business, BA; Sustainable Food Systems, BS; and Food Policy and Sustainability Leadership, Graduate Certificate.
Follow the links below to learn more about all the Educational Assistance Programs offered by the Company.
Discount Tire & Arizona State University Scholarship Program – Learn more about the ASU Online Scholarship program and how to start your application today. Verify eligibility by completing the form(s) in the "How do I receive my scholarship?" section once you are admitted. Dependent declaration forms must be submitted each semester.
Discount Tire Tuition Assistance Program – Up to $5,250 for full-time employees and $1,000 for part-time employees, per year, for eligible expenses including tuition and books.
Bruce T Halle Scholarship – For college-age dependents of full-time employees.