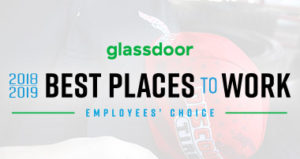 Discount Tire is happy and proud to announce we are among the winners of the 2019 Glassdoor Employees' Choice Awards. For the second year in a row, we are on their list of Best Places to Work, a special honor coming just a few months after opening our 1000th store.
Unlike other awards, there is no self-nomination or application process; instead it's entirely based on the feedback our employees have voluntarily and anonymously shared on Glassdoor over the past year.
This award is a reflection of all our people's commitments to our operating philosophies and our vision to be the BEST! We especially want to thank those of you who took a few minutes to share your experiences working here over the past year, contributing to our back-to-back wins.
It's no wonder the Discount Tire culture is recognized on the national level; it was built by our founder, Mr. Bruce Halle, and it thrives as our amazing people live his Five Life Lessons every day. By Being Honest, Working Hard, Having Fun, Being Grateful and Paying it Forward, we honor and preserve Mr. Halle's legacy and culture.
View the full list of employee-nominated companies
View the Discount Tire profile at Glassdoor