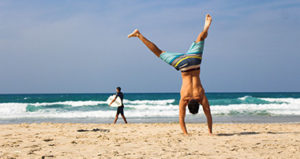 Summer months are the perfect time for outdoor activities with friends and family. You also must remember to protect your skin when you go outside. Stay informed with these up-to-date tips from the Skin Cancer Foundation to help protect you and your family from skin cancer.

UHC Members: For a professional skin exam, log on to myuhc.com to choose a Premium Care dermatologist near you. 
Destination: Healthy Skin
This summer, the Skin Cancer Foundation is hitting the road with Destination: Healthy Skin, a cross-country program of FREE skin cancer screenings! For details on where and when they'll be in your neighborhood visit destinationhealthyskin.org.
Sunscreen and more
Are you sure you are using sunscreen properly? Looking for additional expert information? Rally has more info share. Check out their article "How to Fix the Sunscreen Mistakes We All Make" and get up-to-speed on the "what," "when," and "how" to properly use sunscreen to maximize your protection against the sun!