Available on both iOS and Android devices:
Access your retirement accounts right from your iOS or Android devices. The Empower app gives employees the freedom to access and view their accounts anywhere — anytime. And, employees using iOS devices can easily manage their accounts at the touch of a button.1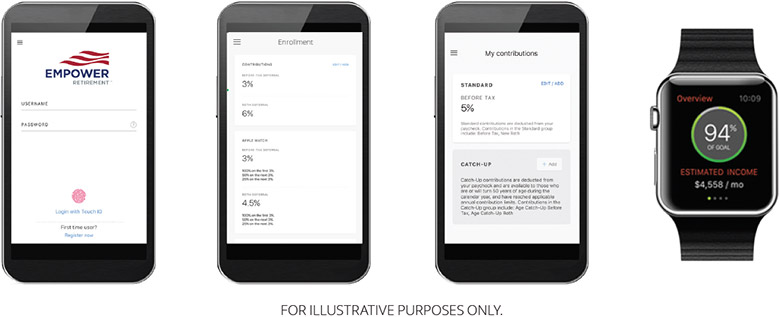 Anytime access
Quick enrollment and customization

Mobile first-timeuser registration
Multifactor authentication
Username retrieval/password reset
Thumbprint ID

One-click enrollment
Beneficiary designation
Allocation elections
Retirement income goal customization

Simple updates
On-the-go views

Contributions
Allocation elections
Beneficiary updates

Progress toward goal
Balances by plan and by investment
"Countdown to retirement"
Learn more about how Empower Retirement's employee experience is helping millions of people take control of their finances. Please call 844-372-8473 (844-DSC-TIRE) or visit empowermyretirement.com for more information.
1 The Android app is a view-only platform and therefore functionality may vary between iOS and Adroid devices. Development is underway to achieve functional parity with the seasoned iOS app.
Securities offered or distributed through GWFS Equities, Inc., Member FINRA/SIPC and a subsidiary of Great-West Life & Annuity Insurance Company. Great-West Financial®, Empower Retirement and Great-West Investments™ are the marketing names of Great-West Life & Annuity Insurance Company, Corporate Headquarters: Greenwood Village, CO; Great-West Life & Annuity Insurance Company of New York, Home Office: New York, NY, and their subsidiaries and affiliates, including registered investment advisers Advised Assets Group, LLC and Great-West Capital Management, LLC.
IMPORTANT: The projections, or other information generated on the website by the investment analysis tool regarding the likelihood of various investment outcomes, are hypothetical in nature, do not reflect actual investment results and are not guarantees of future results. The results may vary with each use and over time. The charts, graphs and screen prints in this presentation are for ILLUSTRATIVE PURPOSES ONLY. This material has been prepared for informational and educational purposes only and is not intended to provide investment, legal or tax advice.