Effective January 1, there will be changes to how Blue Cross Blue Shield members will access virtual visits, please see the Wellness flyer in your 2024 Benefits Guide mailed to your home for details.
For a minor sickness or injury, visit a doctor from your mobile device or computer any time with Virtual Visits. 
Medical Virtual Visits are FREE to Choice Plus Plan, Options Plan, and PPO Blue Plan participants!
Health Saving Plan participants pay less than $60 per visit. Use your HSA dollars!
*This fee may be waived for COVID-19 related services.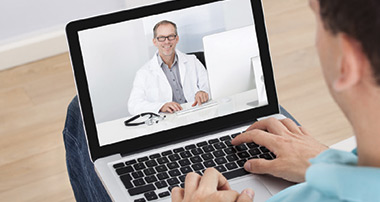 A virtual visit can allow you and your family* to have questions answered and options for treatment outlined by a doctor, quickly and easily — and covered under your health plan benefits. If necessary, the doctor can even prescribe medications.*
Virtual visits offer:
Access from wherever you are
Access whenever you want — 24/7
No fighting traffic to get to your appointment
No waiting forever to be seen
What services are covered?
When using one of the virtual visit provider groups available under Discount Tire's medical plans, you have benefit coverage for certain non-emergency medical conditions like the flu, colds, pink eye, rashes and fevers.
How long before I see a doctor?
Virtual visit providers are expected to deliver care in 30 minutes or less from the time of a patient's request. You also are able to schedule an appointment for a future date and time with a virtual visit doctor.
How do I sign up?
Setting up an account with that virtual visit provider group is easy. Simply log in to your medical plan portal (either myuhc.com for United Healthcare members or mybenefitshome.com for Blue Cross Blue Shield members) and complete the patient registration process. Then you'll be able to talk to a doctor right away or when you need one. Choose a virtual visit provider, either Amwell and/or Dr On Demand. One or the other of these providers may be a better fit for you, depending your location and your personal preferences: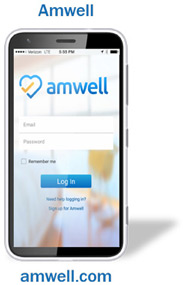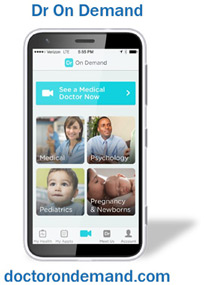 How much does a virtual visit cost?
Employees enrolled in the Health Savings Plan pay less than $60 per virtual visit. For employees enrolled in Choice Plus, Options Plan, or PPO Blue Plan medical benefits, medical virtual visits are FREE.
Any applicable costs for Health Saving Plan members must be paid by you at the time of the virtual visit and will apply toward your deductible and out-of-pocket maximum. You can use a credit or debit card to pay, including your health savings account debit card.
Will virtual visit information be shared with my Primary Care Physician (PCP)?
We encourage you to provide your PCP information to the virtual visit provider so that virtual visit records can be sent directly to your PCP.
* In general a parent or legal guardian must be present when the virtual visit is conducted with a minor dependent who is covered under your plan. Prescription services may not be available in all states. Costs for prescription drugs are based on, and payable under, your pharmacy benefit, not as part of your virtual visit benefit. Prescriptions are provided only when appropriate.
Access to virtual visits and prescription services may not be available in all states or for all groups. Go to your plan website for more information about availability of virtual visits and prescription services. Always refer to your plan documents for your specific coverage. Virtual visits are not an insurance product, health care provider or a health plan. Virtual visits are an Internet-based service provided by your plan's contracted providers that allow members to select and interact with independent physicians and other health care providers. It is the member's responsibility to select health care professionals. Care decisions are between the consumer and physician. Virtual visits are not intended to address emergency or life-threatening medical conditions and should not be used in those circumstances. Services may not be available at all times or in all locations. Members have cost share responsibility and all claims are adjudicated according to the terms of the member's benefit plan. Payment for virtual visit services does not cover pharmacy charges; members must pay for prescriptions (if any) separately.